Note: This page is here just for historical purposes. Jim no longer has an airplane.
FLIGHTSEEING TRIP
or
FLY-IN TRIP
to CABIN on RED SHIRT LAKE
outside Anchorage, Alaska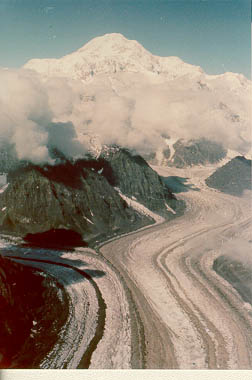 Jim Gottstein, a 30+ year Alaska pilot, has donated a flightseeing trip or a weekend (or whatever) at his cabin (you bring the food) on Red Shirt Lake, which is approximately 30 air miles north of Anchorage. His airplane, a 260 hp Cessna 185 seats 4 (2 or3 passengers, depending on passenger weight, gear and fuel), is on floats in the summertime (and skis in the wintertime). The flightseeing trip can last up to 3 hours, which is about the time it takes to do a trip around Mt. McKinley (also known as Denali). All of this is dependent on good flying weather, determined solely by Jim of course. Denali is a possibility probably only about 5% of the time in the Summer. However, unless the weather is really crummy, other perfectly spectacular trips are available. The cabin, is your classic one-room log cabin with a wood stove for heating, a propane stove and oven for cooking, a hand pump for water and an outhouse for you know what. There is pike fishing (license required), a kayak, canoe, skiff and motorized raft available. For those that might want to come in Winter, March is definitely the month to do it. Believe me on this. For summer, it is June and July (not August) because if nothing else, it doesn't get dark (although the mosquitoes will be a topic of conversation the last half of June).