Students spearhead effort to help homeless
CLOTHING DRIVE: Pair of high-schoolers began project in spring.



By S. JANE SZABO
Anchorage Daily News


(Published: October 20, 2004)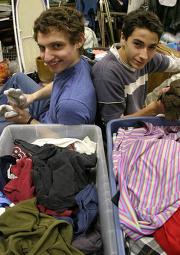 Sam Gottstein and Justin Hurst worked Monday at the Twice is Nice thrift store, which donated used clothing to the teens' Bare Necessities Campaign to help homeless people.
(Photo courtesy of Jeff Nordby, Nordby Photography)
---

Click on photo to enlarge
Late Monday afternoon, a man stood at the intersection of 88th Avenue and Old Seward Highway, where cars flowed into and out of the Sam's Club-Sports Authority parking lot. Bearded and wearing a ball cap, with a backpack resting at his feet, he held a makeshift cardboard sign.

"Homeless -- Needs Help/Work -- Thank You -- God Bless," it said.

Little did the man know that help was coming, from only a stone's throw away. In a nearby mini-mall, a handful of teenagers were boxing up winter clothing for homeless people. It's a project called the Bare Necessities Campaign, culminating this month.
"Sam, can we take shoes?" Justin Hurst asked Sam Gottstein, as the two masterminds of the campaign worked at the Twice is Nice thrift store. Store owner Debby Valeu had closed for the afternoon for the job at hand, which she dubbed a "win-win." She'd be able to winnow her overflowing inventory while people in need would benefit from the teens' project.
While instrumental rock music played in the background, four boys passed shelving along their assembly line, clearing access to the goods in the back room. Hurst took a brief break to explain the project, while Gottstein kneeled and packed a box of sweaters.
"Sam and I, back in spring, decided we just wanted to do something to help," he said modestly, his hands in his pockets. "I work downtown and had seen homeless people on the street," he said. The boys did some research, brainstorming and planning. "We went to a bunch of meetings and talked to a bunch of people and four months later, we're here," he said.
Their research revealed that homelessness carries an unjust stigma with associations of drunkenness, panhandling and irresponsibility. This bill fits only a small percentage of the homeless population, they discovered, and a variety of situations can lead to homelessness.
"Job loss, serious illness and other changes in personal circumstances can cause even conscientious, hard-working people to lose their homes," said Gottstein, a Service High School student. Sixteen percent of homeless people in Anchorage are under the age of 18, according to the teens; 16 percent are veterans, and 29 percent have a disability.
When the boys researched needs, they learned that warm clothing, paper products, and socks and underwear top the list. That led to the planning phase, in which Gottstein and Hurst decided to mount an areawide, competitive clothing drive at the high schools. They enlisted a crew of point people at individual schools, plus the support of sponsors including KTUU, KWHL, Air Land Transport, Lynden Transport and the Anchorage School District. Mayor Mark Begich will present the winning school with an award in early November.
Through Friday, students will be bringing in warm clothing and paper products, plus new socks and new underwear, to their schools. Especially needed are hats and gloves and coats, toilet paper, paper towels, and disposable cups. The goods will be taken to the Brother Francis Shelter, Clare House, Covenant House, Bean's Cafe, Kids' Cafe, New Hope on the Last Frontier, McKinnell House and Anchorage Rescue Mission.
Twice is Nice got involved when Valeu heard about Hurst's project through his mother. "I bought the store five months ago," she said, standing in a chaos that was beginning to show signs of organization with sections for bowls and candlesticks and books emerging over the piles of clothing and propped-up ironing boards.
There, Hurst worked with two other classmates from Dimond High, Sean Burt and Scott Mahar, sorting, counting and packing clothes and engaging in a jocular banter about things like hokey styles and earmuffs. Hurst packed a box while the others counted and Gottstein tried on a sweater for fun.
"Warmth is the key," he said.
The advertisements below are not endorsed by the Anchorage Daily News.